Favour Wildlife Safaris is legally registered as Favour Tours & Safaris by the government of Kenya to offer destinations management services. We are also fully approved by the Kenya Association of Tour Operators (KATO),Africa Travel Association (ATA) and American Society of Travel Agents (ASTA). We specializes in baloon safaris, mountain climbing, mission tours, camping safaris, personalized tailor-made travels to single individuals, families, friends and groups of people from all over the world.
Our mission
Favour Wildlife Safaris endeavors to offer Affordable, Complete and most Comfortable Travel Solutions, for Inbound and Outbound Leisure, Corporate for their Business Travel, along with Meetings & Conference requirements.
Our Vision
To be the most effective and efficient tours and safaris company in Africa.
Our Goal
We believe in giving the best to our customers first time and every time, offering clients a most memorable life experience while operating a safe and secure tour business.
Transport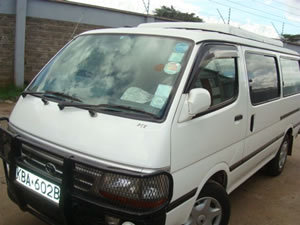 The Company is well equipped in transport (both airport transfers and safaris) with a wide range of vehicles including 4×4s, Saloon Cars, Minibuses and Tour Vans. All our vehicles are reliable, well maintained and most comfortable. The vehicles are built in the best comfortable tourist specifications and standards. All our drivers are long term with the company and are well qualified in various major foreign languages.
Community Social Responsibility
Favour Wildlife Safaris has a passion for people and also the world around us. We give part of our proceeds back to the community in the conservation work. This is mainly in the restoration of the already depleted Kenyan forests covers. We also contribute to charitable organizations such as childrens homes, schools, hospitals and churches.