Travelling responsibly is really important to Favour Wildlife Safaris. We minimize the negative impacts of travel and maximize the benefits to the Kenya communities. In our Company we employ locals, help grassroots projects and offset carbon emissions.
With sensitivity and awareness, tourism can bring benefits to all and take away from no-one. So we have adopted simple principles in our Company for Responsible Tourism.
HOW FAVOUR WILDLIFE SAFARIS MAKE A DIFFERENCE
Local Communities
Favour Wildlife Safaris helps to bring revenue from tourism down to the grassroots. Most of the areas in Kenya, communities have never earned from tourism, though the country continues to receive billions of dollars from growing tourism industry.
By taking guests to the grassroots and facilitating their interaction with the community, we provide a link that is enabling them to earn a living. This is mainly from cultural events and entertainment that guests pays fees for.  We also encourage local groups mostly for the marginalised (youth, women and disabled) to make hand woven items for sale to the guests.
Campaigning for Climate change
Following the worrying trend of global warming that affects human and wildlife, we responsibly take steps to offset all major carbon emissions created by the travelling of our guests.  Part of the income from Favour Wildlife Safaris is normally set aside for tree planting activities in the Aberdare Forests where surrounding communities manage and take care of the young trees for a fee.  We further support the community income generating activities by distributing free tree seedlings for planting in their farms to discourage them felling trees from the forest. This means that in the long run, the people will be sufficient with firewood and timber for their use and as a result give the Aberdare Forest a chance to survive.
The Aberdare Forest is the greatest water tower in Kenya as well as home for much popular wildlife including "big five" and more efforts should be geared to conserve this vital ecology for sustainable global climate change.
By travelling with Favour Wildlife Safaris, your will be making your personal contribution towards making the world a better place for all of us to live.
A Fair Deal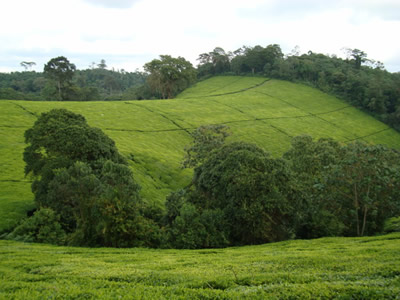 Favour Wildlife Safaris has invested in a tea farm along the Aberdare ranges on-looking Mt. Kenya. Many local villagers are employed in the farm and are paid at rates above the average income in the area as our contribution to improving and raising their living standards.
Volunteering and Charity
Favour Wildlife Safaris every year supports the local primary and secondary schools through provision of sports equipments, books, and other learning materials. We also pay school fees to several disadvantaged children. We encourage our guests to pack along something for the kids while preparing to come for their vacations and holidays in Kenya.
COMMUNITY PROJECTS THAT WE SUPPORT
Aberdare Forest Conservation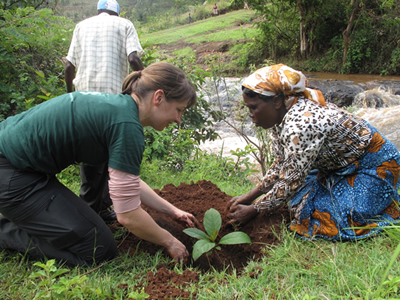 The indigenous Aberdare Forest is a main source of wood fuel for the local community near our tea farm. The community is entrusted with the forests management and in turn they are allowed to utilize it sustainably.  To support sustainable utilization of the Aberdare natural forest resources, Favour Wildlife Safaris contributes seedlings and manpower for planting trees through the local Community Forest Association. The local community are also given plants for their farms and this will give them ample wood fuel for their use hence will not destroy the forests.
We encourage all our guests to plant a tree in the forest as their personal contribution and leave positive and memorable footprints in Kenya.
Gitugi Secondary School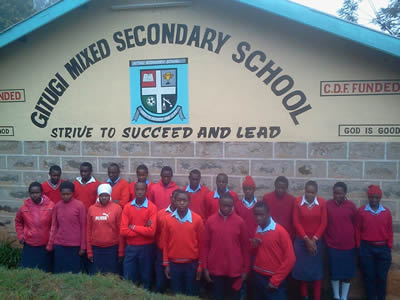 Currently Favour Wildlife Safaris supports this local day school started by the local community at the foot of the Aberdare Forest. The main objective is to help children from economically challenged background to get a chance for secondary education as they cannot afford the high fees of boarding schools. The school is very young and a lot of building constructions and reading materials are required.  Currently the school needs an equipped laboratory and library for the students to be able to compete at par with their peers for the university chances in the country. Apart from the normal curriculum, the school trains students in basic life skills such as scouting, first aid, conservations and economic activities such as agriculture and business studies.
It is our wish to see the school continue registering growth to serve the local community who quietly suffer in silence.
Well wishers are welcome to make their personal contributions to helping this valuable facility.
Gitugi Primary School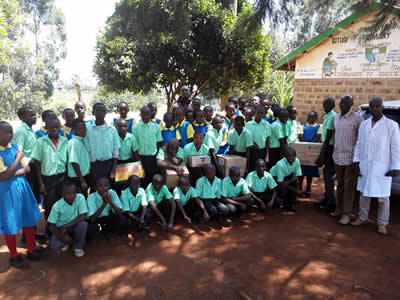 Favour Wildlife Safaris supports this local primary school with learning materials and equipments. Guests visiting our country can utilize one of their days visiting the schools and also make their contribution in helping the young children get a decent education and life. This will surely put a forever smile on their faces.